British Empire Medal for Ellen
20th June 2017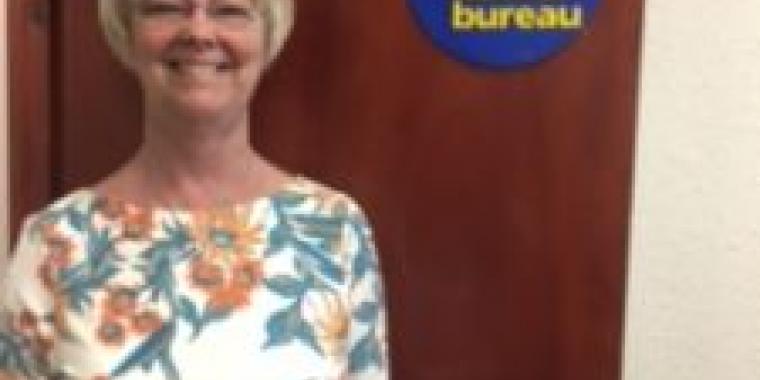 It is with great delight that we share the news that Ellen Phillips, our longest serving volunteer has been awarded the British Empire Medal (BEM) for services to the community in Lanarkshire.
Despite suffering from challenging health issues from an early age, Ellen Phillips has devoted her time to making a real difference in the life of the most vulnerable residents of Motherwell, Wishaw and Shotts for the past 28 years.
She has demonstrated outstanding determination and dedication by overcoming daily challenges to gift her time as: a volunteer advice worker, a lead tutor, an on the job trainer, and a member of our Board. Ellen is Chair of our People Standing Committee and is a lead tutor in every Adviser Training Programme. The warm welcome she extends to new volunteers goes a long way to ensuring that the CAB is a place they feel valued and want to be part of. Just this week, one volunteer referred to her as 'The jewel in CAB's crown.'
During her 28 years she has gifted a remarkable 25,000 hours to our CAB. Ellen has been responsible for mentoring and training 780 volunteers, who in turn donated 500,000 hours of their free time to make a real difference to our community.
Notable Dates
1993 – Supported the launch of an innovative outreach service taking the CAB service to the heart of the community and making advice more accessible in deprived areas.
1996 – Helped to establish the Training & Development Unit to support continuous development of our people
1998 – Became one of the first SVQ Advisers and Assessors in her field.
2003 – Successfully chaired a "Save the Wishaw CAB office'' Committee, when the office was under threat of closure.
2004 – Chosen as a "worthy volunteer" by Jack McConnell MSP (The then First Minister) to represent his constituency at the opening of the Scottish Parliament building. She was presented to the Queen at the ceremony
2006 – While housebound and recovering from Guillame Barre Syndrome which caused her almost total paralysis, she became the first CAB volunteer email advice home worker in Scotland
2014 – She was recognised by Motherwell & Wishaw Rotary International Club as its "Citizen of the year".
Ellen is also passionate about tackling social injustice and remains at the fore front of influencing local and national legislation, submitting more than 7,000 Social Policy issues based on empirical evidence stemming from advice cases. She has been a truly inspirational Volunteer Adviser, Mentor, Tutor and Director who has devoted more than a quarter of a century to meeting the needs of the community of Motherwell, Wishaw and Shotts.
It has been a great honour to work with such a notable person, for whom all volunteers, staff and external stakeholders have greatest respect and admiration. Ellen is quite simply an extraordinary woman.
We cannot thank Ellen enough for her immeasurable contribution to the bureau and the support she has given staff and volunteers over the years. Quite simply, the bureau would not have the same standard of excellent advisers and be able to support the most vulnerable members of our community, without Ellen's dedication and this award is recognition of that commitment.
Ellen had these words to say about being awarded the BEM:
I am delighted to be honoured in this way for my work in Motherwell & Wishaw Citizens Advice Bureau. I have been volunteering with them for 28 years, and the reason that I have stayed so long is the fact that you are always learning something new. It might be changes in the bureau systems from paper based to digital based or changes in legislation that requires extra on-going training. I also love being part of a wonderful team of people.
Personally I have gained so much over the years. As a result of excellent training I have acquired the skills and knowledge to be able to help other people but I have also benefitted. My confidence and self-esteem have grown over the years and I have always felt that I was doing something worthwhile and the job satisfaction is amazing.
Volunteering in any way is something that I would recommend to anyone and although my reasons for getting involved was health related, I believe that it was one of the best decisions of my life.

Ellen Phillips B.E.M.
June 2017